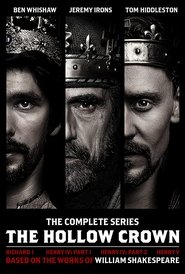 The Hollow Crown
The Hollow Crown es una serie de películas de televisión británica que presenta History Plays de William Shakespeare.
La primera temporada es una adaptación de la segunda tetralogía histórica de Shakespeare, Henriad: Richard II, Henry IV, Part I y Henry IV, Part II (tratada como una película en dos partes de la serie) y Henry V.
La segunda temporada se subtitula «La guerra de las rosas» como referencia a su alcance. Se basa en la primera tetralogía de Shakespeare: Enrique VI: Parte I, Enrique VI: Parte II, Enrique VI: Parte III (tratada como dos películas de la serie) y Ricardo III.