br>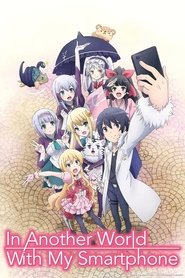 Isekai wa Smartphone to Tomo ni.
In Another World With My Smartphone | 異世界はスマートフォンとともに。
Tras morir por culpa de un error cometido por el mismo Dios, este se disculpa ante Touya Mochizuki y ofrece al joven reencarnarse en otro mundo. Con solo 15 años de edad Touya acepta lo ocurrido, pero Dios le comenta que la única norma es que no puede reencarnarse en el mismo mundo del que proviene. Con ello Touya es enviado a un mundo de magia y espada, pero no sin antes una mejora de sus habilidades físicas por parte de Dios como compensación por haberlo matado por accidente y con el objeto que él mismo decidió que quería conservar: su celular con conexión a Internet de su planeta natal.
Views: 265
Genre: Action & Adventure, Animación, Comedia, Sci-Fi & Fantasy
Actors: Chinatsu Akasaki, Katsumi Fukuhara, Maaya Uchida, Marika Kouno, Miyu Kubota, Miyu Takagi, Nanami Yamashita, Sumire Uesaka, Yū Serizawa, Yui Fukuo
Studio: Ashi Productions, EXIT TUNES, HALF H・P STUDIO, J.C.Staff, Pony Canyon